I am finally back blogging after hectic weeks in uni. Well it was my final few weeks in uni cause as now I'm finished with all my final exams, my uni life is done!! Until I got all my results that is.
So this is me and my friends' last exam and to celebrate we decided to go for a steak dinner. Nothing too fancy, we just want a good steak to end a good semester. So we decided to go to Neil Perry's Rockpool Bar and Grill.
I was instantly wowed by the interior, with high ceiling and beautiful Art Deco architecture along with thousands of Riedel glasses hanged in the middle of the room. The service from the moment we walk in the restaurant to until we left was impeccable. The waitstaff were all very professional and friendly, they were very considerate of what we wanted and how our food turned out.
--------------------------
We were welcomed by something that I love so much, complimentary bread and butter.
Sides: Sauteed Mixed Mushroom (AUD 25.00)
I was a bit surprised with the price of the sides, but it turned out to be a big serving of sides. I ordered 3 sides for the 5 of us and it was just the perfect amount.
I wondered why the mushrooms were so pricey, but then I think that there was porcini mushroom in the mix, so 25 bucks was okay. Plus this was our favorite sides of all, it was so very good and garlicky. Complements the steak well.
Sides: Potato Puree (AUD 10.00)
Smooth and well seasoned, got nothing to complain about this sides.
Sides: Onion Rings (AUD 9.00)
I'm not a fan of onion ring, but this was so nice. Very crispy and it had a nice flavor to it. So good.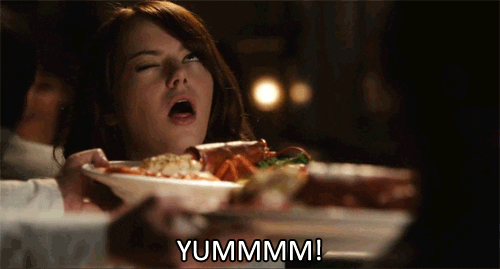 Look at that fibre and red colour of the meat.
Cape Grim Dry Aged 36 Months Old Grass Fed
Fillet 250g (AUD 55.00)
The price was fair at 55 bucks, I got a very very nicely cooked medium steak. Very tender and juicy, with a nice sear on the outside. It was served with complimentary sauce that the waitstaff would bring to your table and for you to choose from. This is one of the nicest steak I've had.
Oh and they have David Blackmore's Wagyu selections as well for steak.
---------------
Definitely will be back for their famous wagyu burger and pasta selections. They have pappardelle with wagyu bolognese too! So coming back for more of their dishes.
Food: 8.5/10
Ambience: 9/10
Price: $$$