Last month, I went back to Sydney for my graduation and had a short 2 weeks stay. Can't fulfill all my restaurant checklist, but so, very happy to be back, even just for a while.
Good news is...... my working holiday visa was granted few days ago!! So I'll be coming back to Sydney next year! The siege that happened last week won't stop me from loving Sydney :)
Oh, and my deepest condolences to two heroes that Sydney lost last week, I was following the news the whole day on telly and really sorry to hear that.
Moment of silence.
-------------------------
So, during my short stay, as I mentioned, I had my graduation. Yay to me, I'm an official Bachelorette of Science!
My ceremony was in the afternoon, so I made time in the morning to visit one of the finest bakery in Sydney, that still have the best tarts, sausage rolls and ice chocolate.
That is, before I got lost riding a bus I've never ride to go back to Maroubra and ended up in Eastlakes, in the middle of a very quiet neighbourhood, with 2% battery, and waited on the wrong bus stop. So I waited standing on the bus stop for a good 50 minutes, just to have an hour to get ready for my graduation.
Good think I had a good meal before all that. Thanks to Bourke Street Bakery on Surry Hills.
-
The place was still as I remembered, there's still people lining in front of the shop, waiting for a daily dose of they're great coffee and pastries.
Had a cappuccino and mocha, both really good, not overly sweet, great aroma and nice froth.
Sydney has great coffee you can't find anywhere else, having gone back to Indonesia has really made me appreciate all the great coffee here, even on random street corner ones.
Reuben Sandwich - corned wagyu beef, swiss cheese, sour cabbage & dijonnaise (AUD 9.00)

That thick slices of corned beef was the bomb! Especially with the swiss cheese, and a hint of sourness from the cabbage and creamy dijonnaise. Such as perfect creamy combo in a well toasted bread. Quite filling although it looks small at first sight. Well worth it.
Pork and Fennel Sausage Roll (AUD 4.50)
This is the first recommendation I got back in my first year of uni and I have been loving this roll ever since. Eat them with ketchup, I am one happy girl.
And one thing BSB taught me is that pork and fennel is meant to be together, like me and cheese.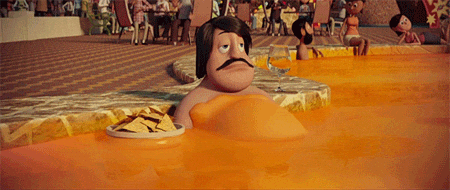 -


Strawberry Meringue Tart (AUD 5.50)
I should've took a picture of the cross section, but was too excited to eat. This might be one of the best strawberry tart I've ever eaten anywhere.
With a sweet berry mousse filling and tangy fresh strawberries, on top of a slightly sweet, flakey crust and topped with sweet creamy meringue. Nothing to complain about this tart, everything to love.
All tarts AUD 5.00:
Ginger Brulee Tart
One of their signature, and I think what makes BSB so popular. If you've had a regular creme brulee tart, multiply by 10 and add ginger to it. Although I am not really a big fan of ginger, I can't resist the smooth custard and perfect sticky crunchy bruleed sugar on top with chopped pistachios. It's like eating ginger candy with an attitude.
Although- bias opinion of mine- I would like less ginger aroma. But since ginger is the whole point of the tart, I don't think that'll be a good idea.
Passionfruit Meringue Tart
As a kid I hated a lot of food, and as I grow older I grow to like them and to love them. One thing I hated was passionfruit, and BSB made me love passionfruit through their passionfruit meringue tart. Beautiful flakey pastry basing the perfect tangy, citrusy passionfruit custard, topped with a sweet, creamy meringue.
Thanks to BSB, now every time I see passionfruit curd, or anything passionfruit, I'd definitely go for it. Too bad they don't have this all the time.
Raspberry and Chocolate Mousse Tart
If you love their chocolate ganache tart, this one is even better. Very chocolatey chocolate mousse topped a tangy raspberry (I wanna say coulis, but I'm not sure). Chocolate and berry never go wrong, especially on this tart. Puuurfect.
---
BSB is still the best bakery for me so far. And please do try their ice chocolate, if you haven't. It is looovely. Perfect to wash down all the tarts.
---
Food: 8/10
Price: $
Ambience: 7/10